| | |
| --- | --- |
| Former Major League Baseball catcher Bengie Molina comes to Cardinal country shared the amazing and emotional story of his father, who against all odds, raised the greatest baseball dynasty of all time. Molina's conversation with KMOX Sports Director Tom Ackerman followed an audience Q&A and book signing of his newly released book . There were also be drawings for sports related door prizes. | |
MOLINA revealed the inspiring story of Benjamin Molina Santana, a poor Puerto Rican factory worker, who against all odds raised Bengie and his two brothers Jose and six-time All-Star Cardinals' fan-favorite Yadier to become famous catchers in the Major Leagues and have six World Series championships among them…the most accomplished siblings in baseball history.

ST. LOUIS (KTVI) – It can be hard putting our feelings about our parents into words, but this was not the case for Bengie Molina. The former MLB catcher and current coach for the Texas Rangers joined FOX2 in the Morning to talk about the book he wrote for his father,

MOLINA: The Story of the Father Who Raised an Unlikely Baseball Dynasty

. Molina will be hosting a book signing Sunday, May 31 at 7 p.m. at Harpo's, located on 136 Hilton Village Center, in Chesterfield. For more information you can go to

meetmestlouis.org

.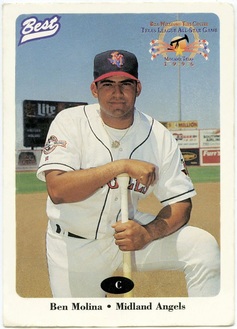 Just in time for Father's Day gift-giving, and written with the emotional power of a sports classic, Molina's beautiful memoir shares how his father used baseball to teach all three sons about loyalty, humility, courage, and the true meaning of success; from rutted Little League fields in a Puerto Rican barrio, to the champagne-soaked clubhouse of World Series Championships.

Benjamin Jose "Bengie" Molina is a former Major League Baseball player who has played for the Anaheim Angels; the Toronto Blue Jays; and the San Francisco Giants. Both of Molina's brothers, Yadier and Jose, are also Major League catchers. Bengie holds two World Championship rings, and two Gold Glove Awards. He is now the first base coach and catching instructor for the Texas Rangers. Copies of MOLINA will be available for purchase at the event.
---