Hayes's masterful 2014 thriller I Am Pilgrim was the recipient of countless accolades. Now, with The Year of the Locust, Hayes has penned a breathtaking story about cutting-edge science, a government conspiracy, and one man's desperate attempt to unravel it all. Luke Truman is a junior officer on board the USS Leviathan, the most advanced and powerful warship ever built. It is an eight-hundred-foot-long submarine which, among its vast array of weaponry and secret systems, boasts a top secret "cloaking technology." Bending light around objects to render them invisible, it is the hottest military research innovation not just in the US, but throughout the world. Now the time has come for the first large-scale trial of its effectiveness. But neither Luke nor the United States government realizes the astonishing forces this experiment will unleash. What Luke discovers on board the Leviathan is that the future of our world is at a deadly tipping point and that only he will be able to stop the cascade of events which are leading them all inexorably towards doom. A breakneck story of nonstop suspense!

Terry Hayes began his career as a journalist and foreign correspondent for The Sydney Morning Herald, covering Watergate and President Nixon's resignation, among many other major international stories. He then went on to become a successful, major movie screenwriter, having written the screenplays for Mad Max 2, Dead Calm, Bangkok Hilton, Payback and other feature films. Audience Q&A and book signing follows presentation.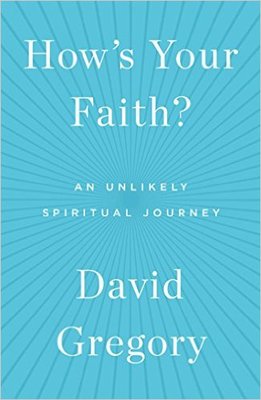 INTERFAITH BREAKFAST EVENT
Join former NBC newsman and Meet the Press moderator David Gregory as he probes various religious traditions to better understand his own faith and answer life's most important questions: who do we want to be and what do we believe?

While David was covering the White House, he had the unusual experience of being asked by President George W. Bush "How's your faith?"

David's answer was just emerging. Raised by a Catholic mother and a Jewish dad, he had a strong sense of Jewish cultural and ethnic identity, but no real belief—until his marriage to a Protestant woman of strong faith inspired him to explore his spirituality for himself and his growing family.

David's journey has taken him inside Christian mega-churches and into the heart of Orthodox Judaism. He's gone deep into Bible study and asked tough questions of America's most thoughtful religious leaders, including evangelical preacher Joel Osteen and Cardinal Timothy Dolan, the Catholic Archbishop of New York. It has brought him back to his childhood, where belief in God might have helped him through his mother's struggle with alcoholism, and through a difficult period of public scrutiny and his departure from NBC News, which saw his faith tested like never before.

David approaches his faith with the curiosity and dedication you would expect from a journalist accustomed to holding politicians and Presidents accountable. But he also comes as a seeker, one just discovering why spiritual journeys are always worthwhile.